Orthognathic Surgery Florham Park NJ
Corrective Jaw Surgery
Orthognathic surgery is needed when the top and bottom jaws don't meet correctly and/or teeth don't adequately fit within the jaw. Teeth are straightened with orthodontics, and corrective jaw surgery repositions a misaligned jaw. This not only improves facial appearance, but also ensures that teeth meet correctly and function properly.
---
Schedule Your Jaw Surgery Consultation Today
Who Needs Orthognathic Surgery?
People who can benefit from orthognathic surgery include those with an improper bite, or jaws that are positioned incorrectly.
Orthognathic Surgery Presentation
To provide you with a better understanding of orthognathic surgery, we have provided the following multimedia presentation. Many common questions pertaining to orthognathic surgery are discussed.
Jaw growth is a gradual process and in some instances, the upper and lower jaws may grow at different rates. The result can be a host of problems that may affect chewing function, speech, or long-term oral health and appearance.
Injury to the jaw and birth defects can also affect jaw alignment. Orthodontics alone can correct bite problems when only the teeth are involved. Orthognathic surgery may be required for the jaws when repositioning is necessary.
Difficulty in the following areas should be evaluated:
Difficulty in chewing, biting, or swallowing
Speech problems
Chronic jaw or TMJ pain
Open bite
Protruding jaw
Breathing problems
Any of these symptoms can exist at birth, be acquired after birth as a result of hereditary or environmental influences, or as a result of trauma to the face. Before any treatment begins, a consultation will be held to perform a complete examination with x-rays. During the pre-treatment consultation process, feel free to ask any questions that you have regarding your treatment. When you are fully informed about the aspects of your care, you and your dental team can make the decision to proceed with treatment together. Call us today to get started! Northeast Facial and Oral Surgery Specialists, LLC Phone Number 973-360-1100
---
Technology & Corrective Jaw Surgery
Dr. Jacob, Dr. Aziz, Dr. Amato and Dr. Lee use modern computer-aided techniques and three-dimensional models to show you exactly how your surgery will be approached. Using comprehensive facial x-rays and computer video imaging, we can show you how your bite will be improved and even give you an idea of how you'll look after surgery. This helps you understand the surgical process and the extent of the proposed treatment.
If you are a candidate for corrective jaw surgery, Drs. Jacob, Aziz, Amato or Lee will work closely with your dentist and orthodontist during your treatment. The actual surgery can move your teeth and jaws into a new position that results in a more attractive, functional, and healthy dental-facial relationship.
What to Expect
Corrective jaw surgery is a significant intervention requiring many months of preparation.
The surgery is performed in the hospital and can last between one to four hours.
Hospital stays of one to three days are normal.
Braces are maintained during surgery and may need to be removed six to twelve months after surgery.
The greatest impact of orthognathic surgery is the recovery phase.
Patients typically may be off work/school from two weeks to one month after surgery.
Return to normal chewing function may take 2 months and full
function may take one year.
Our goal is to ensure you are well taken care of during and after surgery.
Weekly appointments are required for up to two months after surgery.
---
Orthognathic Surgery First Visit
Welcome to Northeast Facial and Oral Surgery Specialists, LLC. Our practice specializes in orthognathic surgery (also know as corrective jaw surgery). The process of corrective jaw surgery can be confusing and overwhelming and we would like to take this time to familiarize you and alleviate some of your concerns. The process of correcting a skeletal malocclusion typically involves both treatment by your orthodontist as well as your oral and maxillofacial surgeon.
Achieve The Smile You Deserve
There will be several visits to our office throughout your care. Your initial visit will take approximately one hour and will involve a physical examination as well as the acquisition of any necessary x-rays and facial photographs. We will review the concepts of corrective jaw surgery to improve your understanding and expectations moving forward. We will also have a preliminary discussion about health benefits so you can better understand what can be a very confusing topic. We are here to help guide you through this process from start to finish making what may be a stressful circumstance into one that is as smooth and as clear and easy as possible. Your next visit will be for a discussion to review the findings of the initial visit, to present your diagnoses and to develop a treatment plan and time line. This visit also typically takes approximately one hour and it is helpful to have a family member or friend present at this visit.
During this visit, we will utilize the latest technology to increase your understanding of the process of corective jaw surgery. There is typically a one-time, out-of-pocket fee associated with these visits that covers all records, x-rays, examination and time involved both face to face with out as well as behind the scenes, where the diagnoses and treatment plan are generated and letters to coordinate care with your dentist and orthodontist are created. That fee is collected at the time of the initial records visit. We will also submit to your health insurance carrier for your re-imbursement for these visits.
Once a treatment plan has been devised, we will handle submitting to your health insurance company for prior authorization. This may take several weeks and occasionally, your insurance carrier will recommend you be sent to additional clinicians to document functional deficits associated with your skeletal malocclusion. These could include speech therapists, sleep studies, or any other clinician as deemed necessary based upon your specific diagnoses.
Once insurance authorization is approved, we will recommend that you begin your orthodontic therapy to align your teeth in preparation for surgery. We will see you several times throughout your pre-surgical orthodontics as deemed necessary by your orthodontist and these visits will be billed to your insurance carrier with no out of pocket expense to you.
Once your teeth are in position to allow appropriate jaw repositioning, you will be scheduled for surgery. You will have two visits with us prior to surgery. The first visit will take approximately one hour and will allow all final records to be obtained. The next visit shortly before surgery will be for a pre-surgical discussion, where the final treatment plan will be reviewed, surgical consent forms will be obtained and any surgical deposit will be collected.
Again, it is helpful to bring a family member or friend to this visit so they may be more knowledgeable about helping to care for you after your procedure. This last visit will also take approximately one hour and will be billed to your insurance company with no additional fee to you.
Surgery is performed with you fully asleep in the hospital, so pain is not an issue. Most patients will spend one night in the hospital prior to returning home but some patients may be treated on a same-day basis.
Once home, recovery is typically one week, if a single jaw is operated, or two weeks, if both upper and lower jaws require repositioning. You should expect to be swollen during the first few weeks but pain will likely be minimal. You will be seen for several recovery visits and typically will return to your orthodontist to finalize your bite at 4-6 weeks after surgery. Full contact sports will need to be avoided for 2-3 months after surgery and you can expect to be on a soft, non-chew diet for 6-8 weeks after surgery.
We hope you find this information helpful and we look forward to meeting you in the office at your consultation. Please feel free to call us with any questions you might have: Northeast Facial and Oral Surgery Specialists, LLC Phone Number 973-360-1100.
---
Corrective Jaw Surgery FAQ
---
Is jaw surgery painful?
Corrective Jaw Surgery (also known as orthognathic surgery) is not typically a painful procedure. Most patients require a light pain medication for several days, which is then followed by Advil or Tylenol.
Our team at NEFOSS is available 24/7 to help if any discomfort should occur: Northeast Facial and Oral Surgery Specialists, LLC Phone Number 973-360-1100.
---
Will I have any swelling after orthognathic surgery and how long can I expect it will last?
The most common complaint after corrective jaw surgery is facial swelling. Patients can expect that their swelling will increase over the first 2-3 days after surgery. Once the swelling reaches a peak, it will take approximately 1-1.5 weeks for half of your swelling to resolve.
It will take the next week for half of what is left to resolve. The last small amount of swelling will typically resolve slowly over the next several months.
It is because of this swelling that patients will feel congested after surgery. Our team will provide you with medications and instructions on how to minimize any swelling and speed up its resolution.
---
How should a patient prepare for jaw surgery?
It is important to be as prepared as possible so that you can take an active role in your recovery from surgery. At NEFOSS, our team will spend a significant amount of time preparing you for what to expect.
Prior to surgery, you will have an appointment with us specifically devoted to preparation for surgery and you will be given clear written instructions on how to take care of yourself both before and after surgery.
Our team is specially trained to answer any questions that might come up or to help you in any way necessary to make this as smooth and easy a process as possible: Northeast Facial and Oral Surgery Specialists, LLC Phone Number 973-360-1100.
---
How long does jaw surgery take?
The length of surgery depends upon which corrective jaw operation is being performed.
If only an upper or lower jaw requires surgery, your surgery will typically last between 1.5 to 2 hours.
If both upper and lower jaws need orthognathic surgery then the procedure will take between 3 and 4 hours to perform.
Drs. Jacob, Aziz, Amato and Lee have extensive experience performing this type of surgery and the procedures will be performed in as quick but more importantly, as safe a manner as necessary.
---
How long do you stay in the hospital after jaw surgery?
Orthognathic surgery is typically performed in a hospital setting with the patient fully asleep and comfortable throughout the course of surgery. We work with anesthesiologists who have extensive experience in treating patients undergoing this type of surgery.
While some patients will be able to go home on the same day of surgery, many will require one night in the hospital and can be safely discharged the next day.
At Northeast Facial and Oral Surgery Specialists, we strive to allow our patients to go home as soon as they are healthy enough to do so.
---
How long does it take for your jaw to heal after surgery?
Depending on which type of surgery is performed, the healing times will vary somewhat.
Most patients can expect to be out of work or school for approximately 2-3 weeks if both jaws require surgery while that time is typically decreased if only a single jaw procedure is necessary.
Drs. Jacob, Aziz, Amato and Lee and their skilled team will spend a great deal of time with you prior to surgery so that you can understand what to expect during recovery.
---
How do I recover quickly from a jaw surgery procedure?
The single most important tip to keep in mind during recovery is to maintain a healthy state of mind.
While every patient will go through a period of swelling with some discomfort, keeping a positive outlook will always make recovery easier.
Our team at NEFOSS will go to great lengths to assure that you and your caregivers will fully understand how to help with a speedy recovery.
Other quick recovery tips include:
Using ice packs
Keeping your head elevated
And following the post-surgical medication and dietary instructions
All these tips will help tremendously to make this as smooth a recovery as possible.
---
What can I eat after jaw surgery?
A healthy diet is paramount to your recovery.
During the first few days after surgery you will maintain a liquid diet. After several days, you will be able to advance your diet to a soft consistency.
The biggest adjustment after surgery will be the consistency of the foods that you eat. You won't have to necessarily change what you eat, but you will need to change the consistency of what you eat.
While most surgeries will not require you to have your jaws wired, chewing hard foods too early can lead to a prolonged healing period.
Good food choices include:
Smoothies
Eggs
Fish
Ground meats
Yogurt
Soft fruits and vegetables
Drs. Jacob, Aziz, Amato and Lee and their team will review all of these instructions with you prior to surgery and are available to you afterward should you need any further guidance.
---
Can I exercise after jaw surgery?
Once you are no longer taking any pain medications and your jaw swelling has improved you can resume exercise.
You will start with light aerobic type exercise and can advance to heavier exercise as the weeks pass. It is critical that during exercise, you are not clenching your teeth as would be expected with heavy weight lifting.
You will be allowed to resume this type of exercise between 6-12 weeks after surgery.
Drs. Jacob, Aziz, Amato or Lee will review all of this with you so you have a full understanding of what types of activities can be resumed to minimize any untoward effects on your surgery.
Having performed these procedures on many patients, our team is experienced in caring for both professional and amateur athletes and is fully prepared to help guide you as you recover.
---
When can I go back to work/school after jaw surgery?
Patients can typically return to work or school approximately 2 weeks after corrective jaw surgery.
Some patients will be able to return sooner in particular if only one jaw requires correction.
Drs. Jacob, Aziz, Amato and Lee practice safe and conservative surgery and we will review what types of procedures you require and help you understand your recovery fully before surgery is performed.
---
Overview Video of Corrective Jaw (Orthognathic) Surgery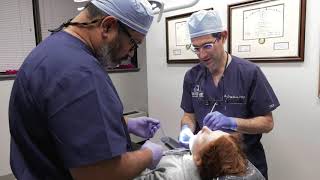 ---
Corrective Jaw Surgery Patient Reviews Florham Park NJ
Please read testimonials from our patients. You can also leave us your feedback. For assistance, please call us at Northeast Facial and Oral Surgery Specialists, LLC Phone Number 973-360-1100.
Northeast Facial and Oral Surgery Specialists, LLC
5
out of
5
stars based on
2
Corrective Jaw Surgery reviews.
---
Our Latest Patient Testimonial
Pre-op visits were very informative and let me know exactly how my surgery was gonna go and what to expect. Surgery went very well and I am very happy with the results so far. All follow up visits have kept me on track to a positive recovery experience and I am very pleased with the whole process.
- Brian B
5

out of

5

stars
by
Brian B
on
Our Latest Patient Testimonial
Words cannot describe how amazing Dr. Jacob and his amazing staff are! Not only did I see Dr. Jacob for the corrective jaw surgery I underwent, but he also took out my wisdom teeth. Throughout my time at NEFOSS he and his team took wonderful care of my twin and I. I knew I could always call to ask any questions. Besides that, I felt comforted whenever I was nervous. I recommend NEFOSS to all my friends because of the fantastic care and work that they do! Keep up the good work! 🙂
- Julia D
5

out of

5

stars
by
Julia D
on